Bedroom Decorating Tips on a Budget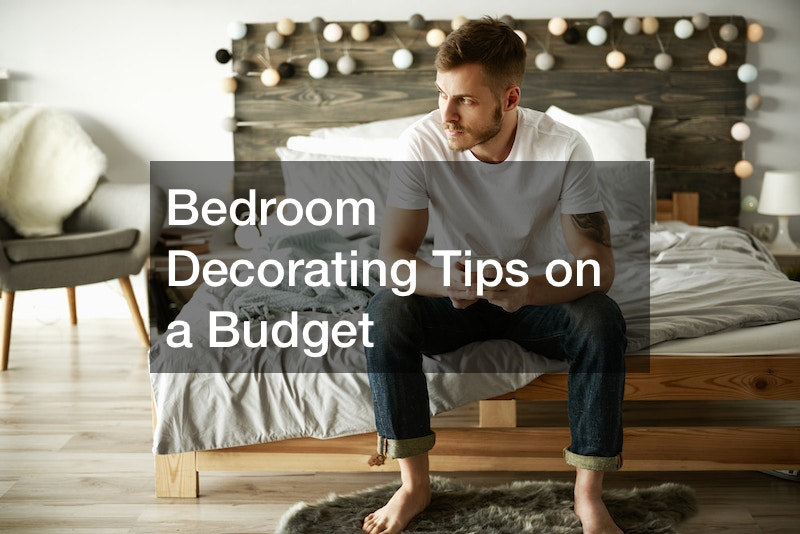 Styling your bedroom on a budget sounds like an impossible task, but if you put some thought and creativity into it, you'd be surprised at how much you can do with just a little bit of money!
This article is filled with bedroom decorating tips on a budget that will inspire you and help you completely transform your room without spending a fortune and making your wallet sad.
Upgrade Your Bedroom Hardware
Upgrades are usually the most affordable thing to pull off when it comes to bedroom decorating tips on a budget. Bedroom hardware is the 'jewelry' of your room, and like a statement necklace or big pair of glittering earrings, can spice up a simple outfit, the right hardware can truly change your bedroom.
Consider adding new knobs or pulls to your dresser or nightstands. Rather than plain ones, invest in knobs that are decorated with your favorite designs, or change the color of the pulls.
Level Up Your Pillows
Changing your pillows is one of the easiest and most affordable bedroom decorating tips on a budget that can make a surprisingly big difference to your room. Think about fancy hotels—they typically use over-filled and plump pillows.
You can bring that same luxurious look and feel into your bedroom by just adding a few well-chosen pillows to your bed. If you have a lounger or similar bedroom chair, you can put some lovely pillows on it as well.
Bring in a Tray
This may seem like a strange decor choice, but trays can actually class up your bedroom. Fill them with items that are special to you and they'll have a permanent place in your room. You can place a tray on your vanity and stock it with your favorite creams, perfume bottles, and jewelry.
A small one on the nightstand is also a good idea, and you can place a candle and your glass of water for the night on it. Choose a tray that complements your current decor and theme so it fits in well.
Add Some Interesting Texture
One of the best bedroom decorating tips on a budget has to be adding texture to your room. You can do this in more than one way, so be creative! Adding texture elements is great at making your bedroom feel really rich visually-wise.
Add a few rattan baskets to achieve a woven texture that creates a boho look, or use textured wallpaper to create an interesting space, depending on the colors you choose.
Change Your Mirror
Most of us have a mirror in our bedrooms but it's usually a simple, boring item that's just 'there'. Why not upgrade your mirror and make it part of your decor? You can add an antique mirror for a nice vintage feel.
You can also add a pair of mirrors for an interesting look.
Although mirrors can be quite pricey, you can shop around at flea markets and garage sales or even check out Craigslist for unique deals.
Give Your Room Fake Architectural Features
Adding architectural features to a bedroom is a great way to change the entire space, but this can be very expensive. Since this list of bedroom decorating tips on a budget is all about saving money, you won't be doing that. Instead, you can fool the eyes with paint treatments and interesting finishes that make it look like your room is a lot fancier than it actually is.
You can make fake wall paneling with Japanese masking tape, for example. You can also paint half the wall to look like wainscoting. Use tricks to make it look like you've invested a fortune in your bedroom.
Update The Lighting
The lighting in your bedroom can truly change how it feels and if you're looking for an affordable way to change your space, you should start with this. Replace the standard, boring lights with lights that have attractive shapes.
For example, a small chandelier or drum-shaped pendant can really change how your room looks and feels.
If you can't or won't change the lights, how about adding window coverings that create an interesting atmosphere? You can visit a window coverings company for assistance with this.
Give Your Nightstand Some Style
Our nightstands are often neglected and we don't always realize that they're a great way to add personality to your bedroom. Rather than letting your nightstand become a place for random items, let it become glamorous and add cute trinkets and a lamp you love to make it special.
Alternatively, you can place a beautiful plant or hang some interesting art in the empty wall space above the nightstand.
Give the Curtains Height
Some of the easiest-to-achieve bedroom decorating tips on a budget involve something simple. If you want to give your room a spacious feeling, you can easily do that by just moving your curtain rod up closer to the ceiling. Many kitchen designs do this, and you can use the idea in your bedroom as well.
Place it a few inches from the ceiling line and your room will feel a lot more open and spacious and your windows will appear larger. This will make the room feel more spacious and elegant, and doing this won't cost you anything!
Show Off a Sentimental Piece
Use your interests and hobbies to add more personality to your bedroom. For example, if you play the guitar, you can put it up as stunning wall decor to make your room instantly look more interesting.
If you enjoy painting or drawing, you can choose your favorite pieces and put them up for display. Incorporating your hobbies into your room costs almost nothing!
Add a Wall Hanging
Headboards are awesome for making your bedroom look more elegant and classy, but they can be rather expensive. A more affordable alternative is putting up a wall hanging where the headboard would go.
You can look for beautiful tapestries or vintage textiles at flea markets and garage sales at a much more affordable price than most headboards. If you can make your tapestry or wall hanging, even better!
Hang Budget-Friendly Artwork
Having a stunning living room wallcovering in your bedroom is a really nice way to spice up your space, but it's not always feasible or affordable. A good alternative is hanging budget-friendly artwork.
You can find art at flea markets and similar events where people sell their handpainted art at surprisingly affordable prices.
Add Some Simple Shelving
Being creative is important if you're looking for bedroom decorating tips on a budget, and shelves are a very creative way to enhance your space. You should be able to find wall shelves at shops like Ikea at affordable prices, and they're fairly easy to put up. After that, you can fill them with your favorite items.
If you want, you can even refurbish a kitchen cabinet and put it in your bedroom for an interesting look and feel.
Upgrade the "Fifth Wall"
The fifth wall in your bedroom is your ceiling. If you're looking for an affordable way to spice up your room, you should take a bold step with your ceiling and paint it in a color that contrasts your walls.
It can be tough to paint ceilings, though, so you may have to get an interior painter to take care of this task for you.
Add and Highlight a Dark Palette
If you are fortunate enough to have a dark-paneled wall, you may feel like you don't need bedroom decorating tips on a budget, but such a wall deserves attention. Make the most of this feature by installing sconces high above your headboard.
Doing this will highlight the dark palette and create a wonderful atmosphere. If you don't have a dark-paneled wall, you should really consider adding one in your favorite dark color.
Use a Pretty Curtain as a Headboard
We all know that traditional headboards can be beautiful but can also cost a lot of money. That's why coming up with alternatives is always appreciated by folks on a budget. One really great alternative is hanging a beautiful curtain where your headboard should be.
Depending on the design of the curtain, you can achieve many different looks and create an interesting atmosphere.
Experiment With a Console Table
When it comes to bedroom decorating tips on a budget, keeping things simple is usually the best way to go. But that doesn't mean you can't mix things up a bit. Sure, traditional nightstands can be beautiful, but why not change things a bit by using a low-profile console table instead?
You can add several accessories like a small table lamp, framed artwork, and even an oversized mirror to take the decor even further.
Add a Statement Gallery Wall
Gallery walls are pretty popular in living rooms and hallways, but they can look pretty amazing in bedrooms as well. An eye-catching gallery wall can really make your room feel special and cozy.
Go for a cohesive look with frames in a color that matches your current decor themes and display your favorite mementos, photographs, and more.
Add a Pop of Color
A really easy way to make your bedroom look and feel upgraded is by adding some extra color to it. If you have a neutrally-colored room, a dash of red or blue can really stand out and look amazing.
Having only similar colors in your room can make it look tired and dull, so add some color with a new throw or bold pillows in contrasting (but complementing) tints and hues.
Try a Little Moodiness
Although most people think bright and colorful bedrooms are the way to go, adding a bit of drama is actually a good idea. You can add moodiness to your bedroom with a black accent wall and pillows in jewel tones, for example.
Choose your favorite dark color, paint the wall, and add small pieces of decor that break the darkness.
Get Rid of Clutter
When it comes to bedroom decorating tips on a budget, nothing could be more affordable than simply getting rid of clutter and giving your room a fresh feel and look. Besides, having too many items in the bedroom is not conducive to relaxation.
Have only furniture and items that you really like and that add character to the room without causing clutter.
Create a Reading Nook
Adding a cozy and warm reading nook to your bedroom is one of the most affordable ideas on this list. All you really need is a comfortable chair, a stack of books, a standing lamp, and a soft blanket.
Choose a spot close to the window for your reading nook and use your favorite chair. You can even use outdoor patio furniture for a unique appearance.
Lay Down a Rug
Rugs are one of the simplest ways to jazz up a room, and by laying a rug in your bedroom you can make it feel really cozy. Choose a nice and large rug in a design that fits in well with the decor and colors of the rest of your room.
Just make sure that you use the right materials. For example, if you have vinyl flooring, a super-soft long-hair rug will create a nicer atmosphere than another vinyl rug on top of it.
Hang a Romantic Canopy
If you really want to transform your bedroom into a serene and tranquil space, you should really consider hanging a canopy over your bed. These canopies come in different colors, textures, and designs.
Hanging a flowing canopy can make your bedroom feel bohemian and glamorous at the same time, and they're not overly expensive either.
Bring In Something Vintage
If your room feels like it's lacking something unique or interesting, why not bring in a piece of vintage furniture? You can visit the best furniture stores in your area and find great deals on older furniture. Even old office chairs can look awesome in your bedroom if they're well taken care of.
If you can't find a good deal on vintage furniture, you can try changing the finish on a piece of existing furniture to fake the old, vintage look.
Make Your Bedroom Feel Special
There you have it—ideas on how to decorate your room on a limited budget. You don't have to use only these ideas, let them inspire you to decorate your bedroom the way you want to so it will feel awesome and special to you.