Seven Home and Health Ideas for Your Family This Summer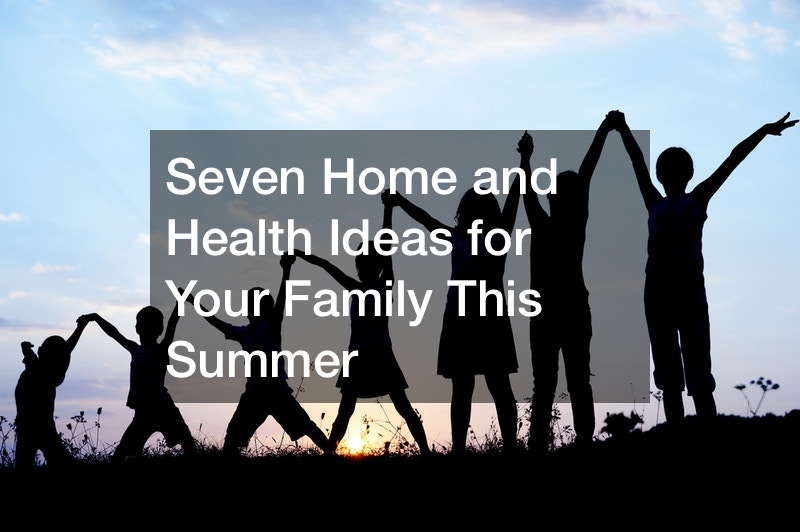 Many families spend quality time together or take vacations in the summer. Regardless of whether most of the time is spent at home or away, great summer advice for parents would be to make the most of what they have. Fun, health, and safety should always go hand in hand. While the family indulges in fun activities, parents can also take extra precautions to keep their families healthy and safe. Here are some great ideas for your family in the summer.
1. Dental Care
For most families, dental care is at the forefront; however, opting to take a more active role in providing teeth care for children can be a great choice, especially in the summer. Here is some useful summer advice for parents concerning family dental health.
When kids are home for the summer holidays, it's difficult for them to follow or maintain a routine. Irregularities in their sleep patterns, meals, and other activities during summer vacation can be detrimental to their health.
While long summer days can have a lot of flexibility in terms of activity, dental care shouldn't lag. Parents can take the opportunity to create habits and patterns that they would like the whole family to emulate.
Routines can be challenging to maintain in the summer. However, they are necessary to create a balanced and healthy lifestyle. Get the whole family into the routine of brushing teeth after meals. Brushing teeth three times a day can seem excessive, but it's incredibly healthy. It may be difficult for the kids to adapt at first, but it won't be long before it becomes an established family routine.
Sweets and treats are often an easy food option when kids are on summer vacation. However, sugary foods can be unhealthy for the body and oral health when consumed in excess. Even with a great oral hygiene routine, eating healthy is still important to avoid tooth decay and cavities. It may seem like a huge sacrifice, but it's worth it in the long run.
Getting braces in the summer is a great idea. Dentist appointments in the summer don't clash with school days giving parents one less thing to worry about. There's also the added benefit of children getting accustomed to braces during the summer. They can discover what they can or shouldn't eat and how to adjust to the change.
A family orthodontist comes in handy for oral hygiene and health. Schedules and appointments become much easier to manage, even with hectic schedules and vacations. Having a professional who knows and understands your family's medical history makes check-ups and treatment much more manageable.
It's essential to go for braces treatment regularly. One reason is that braces often need adjustment. Summer would be a great time to get the readjustments done for children who received their braces earlier.
Summer is a great time to get the whole family into more physical activity. Even though it comes with many benefits, many challenges come with outdoor activities. Injuries are not uncommon when kids or adults are playing. It is essential, therefore, to maintain safety at all times. Wearing a mouth guard is a great way to protect your orthodontics. It may not be flattering or comfortable, but it is a wise investment to avoid extra costs later on.
2. Aromatherapy
CBD is growing in popularity over time. It is known for its many benefits, including; reduced anxiety, boosting immunity, and relieving joint pains.
It's like regular aromatherapy, but it uses cannabinoids (CBD). With CBD aromatherapy, you can get an immediate effect while going about your daily routine.
Aromatherapy can be a part of summer advice for parents. Regular use while indoors in the summer might be a great idea. Be sure to get prescribed doses from a doctor before using them. Avoid buying the doses online.
Outdoor Activities
Summer is when people like to spend a lot of time outdoors. While some people go on vacations during the summer, many don't. It takes a lot of creativity to keep a family entertained all through summer. However, parents can fill their children's summer days with creative, fun-filled activities.
3. Swimming
In the heat of summer, swimming makes sense. It's a fun activity that even families that don't have pools can participate in. Many facilities have pools that people can use at a fair price. For families with pools, there's not much needed to set up. However, there are some safety measures parents can set up to keep their families out of harm's way. Keeping the family safe is the best summer advice for parents.
Teaching children how to swim is best to protect them from potentially drowning. It also adds to the experience of swimming. Rather than just wade across the water, children can float and swim. There are many places where parents can enroll their children for lessons at a fair price or free.
Nothing is more crucial than having someone to watch kids while they swim. All sorts of accidents can happen, and it takes a vigilant watcher to prevent the worst from happening. Avoid distractions such as phones while watching kids in the pool.
Try to keep the little ones as close to the edge as possible. It is easier to grab them in case of danger when they are near the edge.
Basic first aid goes a long way in saving lives. Learning how to perform CPR on children and adults can turn a potentially disastrous situation around. You can get certified by training from a recognized hospital or community center.
Accidents such as a child falling into a pool have caused serious fatalities. A lifeguard on the scene is crucial. Other than having a lifeguard, lifesaving devices are crucial in enhancing safety. Pool fences, barriers, covers, and alarms are all tools that can enhance safety. They come in handy, especially when a child wanders off towards the pool when they aren't supposed to. Warning children of the dangers of trying to cross the barriers while unattended helps to keep them out of danger.
Make Use Of Pool Services
Pools need to be taken care of regularly. Swimming pool companies offer a variety of services. Some include cleaning pools, balancing the pool's pH, and checking the equipment. Check and service pool equipment regularly to maintain safety and prevent long-term issues.
4. Backyard Fun
You don't always need to travel to be on vacation. Set up your home to provide a way or areas where you can escape. With just the right aesthetic, summer days can be relaxing and entertaining: filled with multiple outdoor activities for the family. Investing in decorative concrete and natural stones is great summer advice for parents.
Unless they are bookworms, getting kids and grown-ups to read can be quite challenging. One of the things that can help with this is creating a reading nook. Some beanbags, a hammock, and some furniture can create just the right environment. It can get the family outdoors and away from screen time. This environment can also be a great place to stargaze at night.
Having a spa at home is what most families need to unwind. Using just the right plants, furniture, lights, and natural stones can transform an empty backyard, garden, or patio into a relaxation paradise.
A hot tub or jacuzzi can be a simple addition that makes all the difference. It can create the perfect endings to long days or make memorable beginnings.
Camping is a great outdoor activity that families can enjoy in the summer. However, traveling to a campsite may not always be possible. An easy solution to whatever barriers may include creating your small campsite.
Having a little paved area in the backyard with a fire pit is great. Families can enjoy stargazing, cookouts, and roasted marshmallows outdoors. The experience is just the same as an actual camping trip.
If the space is large enough, they can set up tents. Families can make makeshift tents without tents, using duvet covers supported by poles. Children can enjoy cozy sleep in sleeping bags placed over yoga mats.
Kids like to play. Creating a space for them to explore and imagine is great, especially during summer vacation. Natural stone and decorative concrete patterns around grassy areas can create the perfect playground. For instance, creating a hopscotch pathway can easily allow kids to play hopscotch. Placing natural stones randomly around can allow them to use their imagination. They can play games like don't step on the lava.
Parents can also install playground equipment. This equipment can include a theme park, a castle, or a rollercoaster. Such an investment will keep the kids preoccupied and allow them to be creative and imaginative.
Adding things like paver lights or a meandering path can create an aesthetic that even grown-ups can enjoy.
Interior Decor
Although most summer activities take place outside, families will still spend time indoors. Creating fun activities indoors is essential to making the summer vacation feel complete.
5. Bedrooms
A great time to renovate the bedroom is in the summer. Families can have even more fun if they use the time to do some fun family DIY projects together.
The kids' bedrooms are great places to experiment with different colors. Of course, the color choices need to align with what the kids like. Neutral colors are safer because kids' preferences tend to change overnight.
When repainting, you can have them help out with the less complicated parts. It will help them feel like part of the process, and it will help provide more opportunities for family bonding.
Summertime is a great time to upgrade bedrooms. Replacing old bedroom furniture is a good place to start. If the furniture is still in pretty good shape, then another option would be to add some fixtures or furniture.
Wall hooks are a great way to help kids keep their rooms tidy. They can hang things that need hanging, like bags and coats, keeping their rooms tidy during vacation.
Storage is another way to get kids to tidy up after themselves. Increasing the number of compartments in closets can help them tidy up. Creating storage boxes under the beds also allows kids to put the toys they use away. It's also a great way to get kids to take responsibility for their space and belongings.
6. Bathrooms
With kids around for summer vacation, bathrooms may need some upgrades. You can incorporate some creative colors, patterns, or artwork. It will create the ambiance you prefer.
Vanities are also important because they add to the bathroom's aesthetic. Turn it into a family project by getting everyone's opinion. Let everyone help arrange items in the cabinets or choose the colors and themes they prefer. They also create room for storage. Towels, toiletries, shampoos, and medicine are just a few examples of what vanities can hold. The best bathroom vanities also cover the pipes and support the sink.
7. Aquarium
A fun family project for the summer is installing something completely new, like an aquarium. It's colorful and a great way to introduce the kids to the responsibilities of having pets. Getting in touch with a local pet or aquarium store can give you all the details you need to set up. Starting small is best as you and your family learn to adapt to the pet. Have a rota for feeding the fish and cleaning the aquarium.
Wrapping Up
Summer vacations can be filled with so many fun activities. It takes a little creativity and you can take advantage of what you already have. It is a great time to teach kids to establish routines. Families could also benefit from learning how to participate in different activities and be safe while they're at it.