10 Unique Indoor Wedding Decor Ideas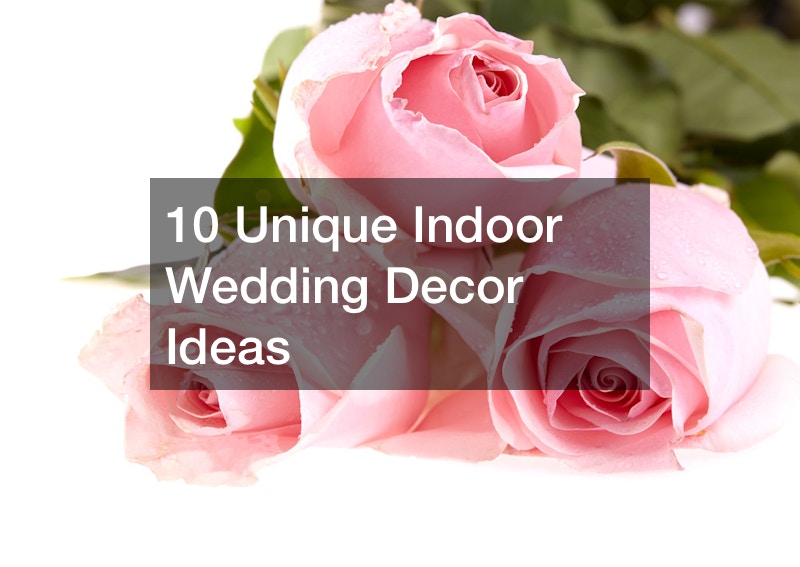 Your wedding is a celebration of you and your partner, so your wedding should feel as special as possible. No one wants their wedding to look drab or boring. While you can experiment with more traditional decor, you may also want to try some unusual indoor wedding decor ideas. With these suggestions, your wedding will feel uniquely your own.
1. Write Your Guests a Handwritten Note
Weddings are an opportunity to bring people together. No one should want to call a divorce lawyer after they attend a wedding! You can connect with your guests and help guests connect by penning a short, handwritten note for everyone in attendance.
In the note, write a personal message to each guest to tell them why you appreciate their presence on your wedding day. You might want to share a happy memory or thank them for everything they've done for you. If you have a seating chart, you can place the note at each guest's seat.
This is a great way to give your place settings a personal touch. While wedding favors and decorations are appreciated, a handwritten note is an unusual twist on more traditional indoor wedding decor. If you don't have time to write a note for all of your guests, consider writing a note for each table instead.
2. Consider Using Your Own Flatware
Your wedding venue will likely provide you with essential items like flatware, but if you'd like your place settings to look more interesting, you may want to try using the flatware you provide. Bringing your flatware will give you options beyond the traditional silver or stainless steel.
Bamboo silverware is a wonderful choice if you want your wedding to have a rustic vibe. To create distinctive place settings, try using pewter flatware! Other options worth considering include titanium, copper, or rainbow-colored flatware.
While swapping out flatware won't have a huge impact on your indoor wedding decor, it's something that your guests will take notice of. You can even include your unique place settings in your wedding photo. Since the flatware will be yours, you'll be able to keep using it after your wedding is over.
3. Create a Beverage Station
People tend to do a lot of moving at weddings! A beverage station will allow your guests to rehydrate after they work up a sweat on the dance floor. Whether you serve water or other beverages, you can display these refreshments in interesting ways.
You can easily spruce up a water dispenser by placing it on top of a log. Using unusual glassware, like mason jars or champagne flutes, can also add visual interest. Adding a few small pieces of fruit can make the water look more refreshing.
Place your water dispensers on a table, and cover it with a tablecloth that complements your other decorations. You can add flowers or other touches to make the table visually appealing. You may even want to create a cute sign letting guests know they can grab a drink here.
A beverage station offers practical benefits but is also a fun indoor wedding decor idea. Since people will visit the beverage station throughout your reception, you could even place a scrapbook there. Encourage guests to leave messages in the scrapbook that you can read later!
4. Use Vintage Rugs
Even if your wedding reception location is fairly bland, you can make it feel magical with the right decorations. Vintage rugs can be a lovely way to add pops of color to the space. While it's common to see flowers and balloons at weddings, it's a lot rarer to see people using rugs!
Rugs are a terrific option if you plan a bohemian wedding. You can find vintage rugs in various colors and a wide range of patterns. You can mix and match different rugs to create a more distinctive look.
Not only can you use rugs to decorate your wedding reception, but you can also use them as part of the decor for your wedding ceremony. The right rugs could transform your ceremony space. You can't go wrong with rugs if you're looking for indoor wedding decor ideas that will have a big impact.
If you already have rugs that you love, bring them to your wedding venue and include them in your decor. Alternatively, you can look for suitable rugs at a local thrift store. You'll find some fun options within your budget if you're lucky. You could also ask friends and family to lend you rugs so that you have 'something borrowed' for your wedding.
5. Create Beautiful Backdrops for Photos
There will likely be many pictures of your wedding day. While there may be some lovely backdrops at your venue or event center, you can make your photo backdrops! The backdrops can add to your wedding decor and allow people to pose for pictures with friends and family.
One easy way to build a backdrop is to get a large wooden canvas. You can cover the canvas in flowers or something better suited to your wedding decor. Put your backdrop in a well-lit location and create a sign letting people know that this is a photo spot. You could even include a few photo lights!
In addition to building a backdrop, you should look for ways to encourage people to take fun and memorable photos. For example, you could place a table alongside your backdrop and fill it with props. Hats, feather boas, and sunglasses can all be fun to include in photographs.
Your backdrop will enhance your indoor wedding decor on the day of your wedding, but it will also leave you and your guests with photos you'll be able to cherish for years. A wedding is just one day, but the pictures you take will last lifetimes. You can keep the backdrop you build and use it for future events!
6. Set Up a Visual Guestbook Table
Your guests need something to do while they wait for the limousines to arrive with the wedding party. Keep them busy by putting together an unusual guestbook table. Instead of asking guests to sign their name in the guestbook, ask them to leave behind a photo!
Set up a table with your guestbook and a few polaroid cameras. Create a sign asking your guests to take a picture and leave you a message! Instead of writing their message in the guestbook, they could place it on the back of the photo. You may even want to ask for a specific message, like marriage advice.
Since your guestbook table will be a part of your indoor wedding decor, you'll want it to be as appealing as possible. Add a basket of clothespins or thumbtacks to the table, and give your guests a place to hang these pictures while they develop. You'll be able to enjoy looking at the pictures after your wedding, and those pictures will also be included in your wedding decor. This is a wonderful way to give your wedding decorations a personal touch.
7. Add In Natural Accents
Hosting an indoor wedding means you don't have to use portable toilets, but you won't have nature as a backdrop for your wedding. Thankfully, there are plenty of ways to bring nature indoors. If you want to create an interesting wedding centerpiece, consider combining fresh fruit and flowers!
You could also fill the venue with potted plants or trees. Try decorating some plants with string lights if your wedding is at night. Hanging plants and wreaths are also excellent ways to add more greenery to a wedding. Do a little indoor landscaping to give your venue a rustic vibe!
Consider using herbs or flowers as decorations in your place settings. If you're struggling to find the perfect favors for your guests, why not give them seeds or potted plants? You could even use tropical leaves to decorate your wedding cake.
There's no reason to give up on greenery when looking for indoor wedding decor ideas. There are countless ways to bring plants, flowers, and produce into your wedding venue. You'll be able to enjoy many of the perks of an outdoor wedding, but thankfully, you won't have to worry about the weather.
8. Enhance Your Entryway
You get just one chance to make a first impression. That's why you should ensure that people are impressed with your wedding decor from the moment they enter your venue. If you place a beautiful floral arbor in your entryway, people will be excited to walk into the reception hall.
With the help of an arborist, you can build a stunning floral archway that guests will pass through when they enter your venue. You could use flowers similar to the ones in your centerpieces or bouquet or an entirely different type of flowers. People will love stepping past the archway no matter what type of flowers you choose.
It's common to use floral arbors during wedding ceremonies, but it's rarer to see them at receptions. Including an archway in your reception decor can beautify your wedding and make it stand out. Since it will be right at the entryway, no one will be able to miss it.
After people see your archway, they'll look for other details that make your wedding feel unique. They'll likely pay closer attention to your place settings and wedding favors. People will truly appreciate your indoor wedding decor when you make a great impression.
9. Don't Stick to Tables
At indoor weddings, many decorations wind up on tables. While making your guest's tables look as beautiful as possible, you shouldn't neglect the rest of your space. Placing decorations in unconventional spaces can bring out details in the space.
For example, you could try hanging wreaths on the back of chairs. You could also place flowers around windows and doors. The venue's walls can also be a good spot for decorations. You could hang up artwork and greenery or add sparkle to the walls. Table ends can be a lovely spot for a floral bouquet.
When you're decorating for a wedding, there's no reason to limit yourself. This is a fantastic opportunity to step outside the box and experiment with decor ideas you've never tried before. Ensure that guests can see something beautiful no matter where they look.
Try to look at the big picture when creating ideas for your indoor wedding decor. It would be best if you thought about how your venue will look. Find beautiful table decorations, but look for ways to decorate the rest of the space.
10. Try Using Drapery
Drapes aren't just for windows. They can also be an attractive and versatile decoration option! Long sheets of fabric can also add elegance to a reception space.
You can use drapes to cover the venue's ceiling or highlight certain features, like a vaulted ceiling or ceiling beams. Whether you opt for a classic option, like white or ivory, or use drapes in your wedding colors, drapery can add visual interest to the space. You can even use sheer drapes that will let natural light shine through.
If you hang drapes in multiple colors, you can create a breathtaking ombre effect. You can also combine drapes with other decor items, like greenery or twinkle lights. If you need a backdrop for your head table or dance floor, drapes are a fantastic option.
When a wedding is hosted in a larger venue, drapes can create room dividers. This can be especially useful if you have different ceremony, reception, and cocktail hour areas. Drapes are a way to break up a space and create the illusion of distinct rooms within your space.
There aren't any limits to indoor wedding decor ideas. Whether you want your wedding to feel bold and modern or plan a timeless reception, the right decorations can bring your vision to life. Try these suggestions if you're looking for ways to make your wedding decorations look more distinctive.